The Laser Display and Lighting Conference (LDC) is an international conference on laser displays, laser lighting, and related technologies. The 1st, 2nd, 4th, and 6th-8th LDC were held in Yokohama, Japan in 2012, 2013, 2015, 2017-2019, respectively, and the 3rd in Taichung, Taiwan in 2014, the 5th in Jena, Germany in 2016. The 9th, 10th and 11th LDC were held hybrid. The 12th Laser Display and Lighting Conference (LDC2023) will be held on-site.
The LDC2023 is intended to provide a central forum for the update and review of scientific and technical information on laser display and lighting covering a wide range of fields from fundamental research to systems and applications. The conference is sponsored by the Optical Society of Japan in cooperation with several academic societies and associations.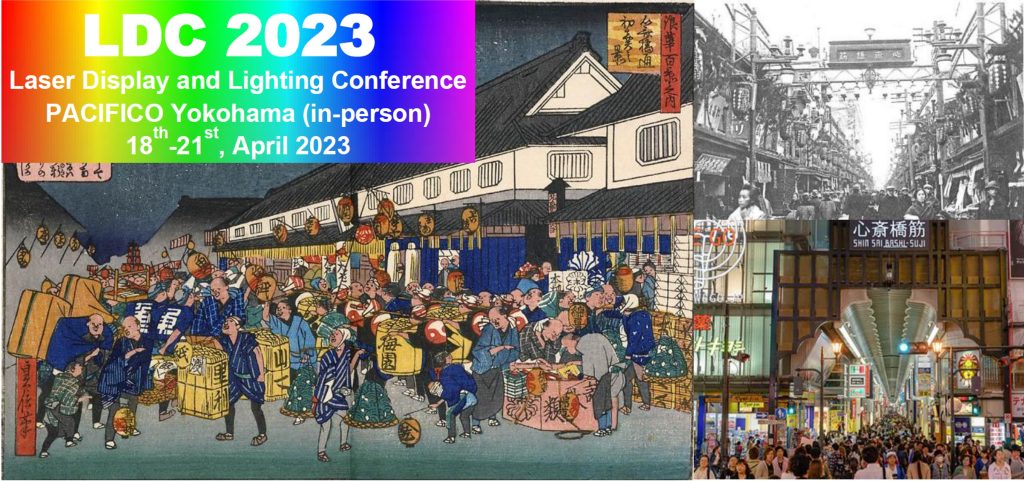 ---
Important dates
PDP's deadline is 3/3 and the author notification will be 17th.
September 20, 2022:
November 1, 2022:
January 13 -> 27, 2023:  

Regular Paper Submission Deadline*
*Extended to 27th

January 17, 2023:
February, 2023:
Early March 2023:
Early March 2023:
17 – 21 April 2023:
Regular paper submission will be accepted until January 27
How to attend
With the pandemic under control, OPIC2023 will be held in-person on 17-21 April, 2023 at Pacifico Yokohama on a larger scale, composed of 12 Specialized International Conferences including one newly started Conference. Please refer to the following website for details. OPIC2023 : https://opicon.jp/
---
Chairs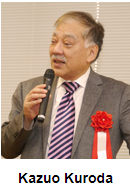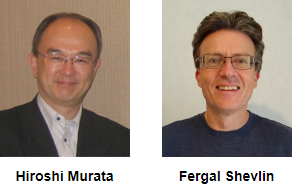 Steering committee

co-chair: Kazuhisa Yamamoto
co-chair: Nrihiro Ohse

Program committee

co-chair: Sunao Kurimura
co-chair: Tetsuya Yagi
co-chair: Shing Zhu
Vice co-chair: Muneharu Kuwata
Vice co-chair: Tatsushi Hamaguchi
Vice co-chair: Kenji Yamamoto
Vice co-chair: Hirotsugu Yamamoto
LDC 2023 Abstract Publication
All of LDC abstracts will be published as abstract book at SPIE digital library in open access in July of the year that conference is held.
LDC2023 Special Issue of Optical Review
The attendees are encouraged to submit paper to the LDC special issue of Optical review. The submission deadline is be announced later.
Awards in the Past Conferences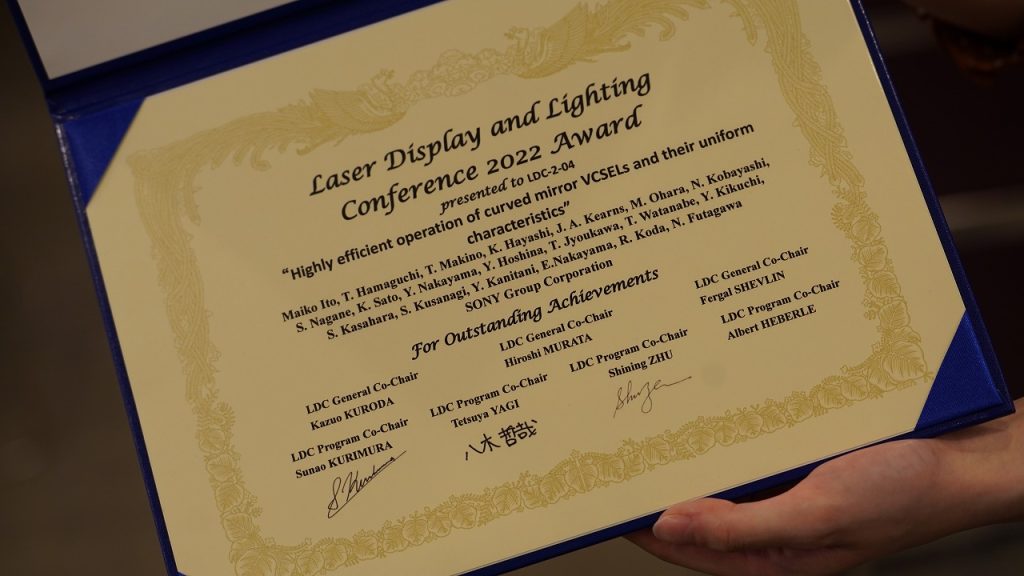 The program committee of LDC will select the best paper award and the student award from papers presented at LDC. The winners will be announced at the closing ceremony. Past award winners are listed below,
2022
<LDC regular award paper 2022>
LDC-2-04 "Highly efficient operation of curved mirror VCSELs and their uniform characteristics" Maiko Ito, Tatsushi Hamaguchi, Tomohiro Makino, Kentaro Hayashi, Jared A Kearns, Maho Ohara, Noriko Kobayashi, Shoetsu Nagane, Koichi Sato, Yuki Nakayama, Yukio Hoshina, Tatsurou Jyoukawa, Takumi Watanabe, Yuichiro Kikuchi, Seiji Kasahara, Susumu Kusanagi, Yuya Kanitani, Eiji Nakayama, Rintaro Koda, Noriyuki Futagawa; Sony group corporation, Japan
LDC-8-04 "Quantitative Comparisons of Deconvolution Processing to Deblur Aerial Image Formed with Aerial Imaging by Retro-Reflection" Hayato Kikuta, Masaki Yasugi, Hirotsugu Yamamoto; Mitsubishi Electric Corp., Japan, and Utsunomiya University, Japan
<LDC student award paper 2022>
LDC-8-02 "Expansion of Arc 3D Display to Cone-Shaped Display" Akua Kawakami, Haruki Mizushina, Shiro Suyama, Kenji Yamamoto; Tokushima University, Japan, and Utsunomiya University, Japan
LDC-8-03 "Improving Modulation Transfer Function (MTF) of Aerial Imaging by Retro-Reflection (AIRR) Using Collimation With Transparent Spheres" Kazuaki Takiyama, Haotong Guo, Kengo Fujii, Masaki Yasugi, Shiro Suyama, Hirotsugu Yamamoto, Utsunomiya University, Japan
2021
<LDC regular award paper 2021>
LDC-5-04 "Color Shift Behavior at Image Pattern Edges of Raster-scan RGB Mobile Laser Projectors" Junichi Kinoshita, Akira Takamori, Kazuhisa Yamamoto, Kazuo Kuroda, Koji Suzuki; Osaka University, Utsunomiya University, OXIDE Corporation
LDC-5-05 "Ultra High Resolution and VAC-free N3D Technology and its Applications"Chin-Yung Hsieh, Hao-Yu Liu, Ruey-Jer Weng, Wei-Yi Lu, Naoki Sumi; Innolux Corporation, Taiwan ROC, and Innolux Japan K.K., Japan
<LDC student award paper 2021>
LDC-2-02 "Subjective Super-Resolution Display on Aerial LED Signage Formed with Aerial Imaging by Retro-Reflection "Kojiro Matsushita, Akinori Tsuji, Toyotaro Tokimoto, Hirotsugu Yamamoto; Utsunomiya University, Tokushima University, XAiX, LLC, JST ACCEL, Japan
LDC-7-03 "Thermal Property of AlN-Ce:YAG Composite Ceramics Phosphor for Laser Lighting" Takuya Sawada, H. Huji, K. Yagasaki, H. Minemoto, Y. Manabe, K. Fujioka, K. Yamamoto; Institute of Laser Engineering, Osaka University, Japan
2020
<LDC regular award paper 2020>
LDC14-03 "Color LiDAR using RGB visible laser diodes" Tomoyuki OHASHI, Masato Ishino, Kazuhisa Yamamoto, Kana Fujioka; Osaka University, Japan
<LDC student award paper 2020>
LDC7-03 "High–direction and low coherence semiconductor laser with dumbbell-type cavity"Linhai XU, Yufei Wang, Yufei Jia, Wanhua ZhengChinese Academy of Sciences, China
LDC8-04 "High-Frequency Modulation of RGB Semiconductor Lasers for High-Resolution Scanning Displays"Kiyoshiro YAMANAKA, Hiroshi Murata, Junichi Kinoshita, Kazuhisa YamamotoMie University, Osaka University, Japan
LDC11-04 "Ce:YAG composite ceramic phosphors for laser lighting" Kenta YAGASAKI, Hisashi Minemoto, Kana Fujioka, Hiroshi Fuji, Kazuhisa Yamamoto; Osaka University, Japan
<LDC Poster Award 2020>
LDCp-01 "Reforming of Computer Generated Hologram Pattern through Angular Spectrum Domain Computation" Chang Joo LEE, Woo Young Choi, Joong Ki Park, Kwan Jung Oh, Kee Hoon Hong, Ki Hong Choi, Seung Yeol Lee; Kyungpook National University, South Korea
2019
LDC Best Paper Award
LDC-2-04 Evaluation of Adaptive Shifted Superimposition Technique for Enhancing the Projector Resolution*Svein Arne Jervell Hansen1,3, Muhammad Nadeem Akram1, Jon Yngve Hardeberg2(1. Univeristy of South-Eastern Norway, 2. Norwegian University of Science and Technology, 3. Barco )
LDC-5-03 Laser-phosphor light source with luminance up to 2000Mcd/m2*Koji Takahashi1, Karl Welna2, Valerie Berryman- Bousquet2, Mattia Signoretto2, Toru Kanno1, Hirokazu Ichinose1, Hidenori Kawanishi1(1. SHARP coporation, 2. Sharp Laboratories of Europe Ltd.)
LDC Student Award
LDC-P-03 Holographic display using binary phase modulation by image segmetation method*Kento Kurosawa1, Xiangyu Quan1, Kouichi Nitta1, Osamu Matoba1(1. Kobe University)
LDC-5-04 Generation of multi-wavelength yellow-orange lasers using chi(2) chirped nonlinear photonic crystals*To-Fan Pan1, Kai-Hsun Chang1,2, Jhih-Yong Han1, Jui-Hung Hung3, Azzedine Boudrioua2, Hiroyuki Yokoyama3, Katrin Paschke4, Lung-Han Peng1,3(1. National Taiwan University, 2. Universite Paris 13, 3. Tohoku University, 4. Leibniz-Institut fur Hochstfrequenztechnik)
2018
LDC Best Paper Award
LDC6-2 Image Resolution of Raster-scan Laser Mobile Projectors Considering Color Speckle Effects*Junichi Kinoshita1, Akira Takamori1, Kazuhisa Yamamoto1, Kazuo Kuroda2, Koji Suzuki3(1. Osaka University, 2. Utsunomiya University, 3. Oxide Corporation)
LDC6-3 Light source coherence and the impact of diffusers on the image quality of a holographic display system*Yuanbo Deng1, Daping Chu1(1. University of Cambridge)
LDC Student Award
LDC3-5 Aerial Protruding DFD Display with AIRR*Yoshiki Terashima1,Ryosuke Kujime1,2, Shiro Suyama3,Hirotsugu Yamamoto1,2(1. The University of Utsunomiya, 2 JST ACCEL,3. The University of Tokushima)
LDC4-3 Spatial-division multiplexing in holographic 3D display using high-speed binary phase-mode spatial light modulator*Shigehiko Washizu1, Syo Harada1, Xiangyu Quan1, Kouichi Nitta1, Shinya Sato2, Nobuyuki Hashimoto2, Osamu Matoba1(1. Kobe University, 2. CITIZEN Watch Co. Ltd.)
2017
LDC Best Paper Award
LDC2-2 Laser Beam Scanning Short Throw Displays and an Exploration of Laser-Based Virtual Touchscreens*Jari O. Honkanen1, P. Selvan Viswanathan1(1. MicroVision Inc.)
LDC4-2 High-power and highly-reliable 638 nm band BA-LD for CW operation*T. Nishida1, K. Kuramoto1, S. Abe1, M. Kusunoki1, M. Miyashita1, T. Yagi1(1. Mitsubishi Electric Corp.)
LDC Student Award
LDC2-4 Electro-Optic Bragg Diffraction Type Spatial Light Modulator Using Periodically Poled Structures for Laser Displays*Yuta Hayashi1, Toshiyuki Inoue1, Hiroshi Murata1, Atsushi Sanada1(1. Osaka Univ., Japan)